Product Detail
Product Tags
Reed fences are inexpensive bamboo-like covering for existing fences, walls, or screening. It is not bamboo at all, instead it is its cousin. Reed fence is commonly used to cover chain link fences.The same reed that is used to thatch roofs in Europe (and occasionally in the US) is woven with natural brown twine. Our exclusive designed reed fence uses natural looking brown twine that match perfectly with the color tune of the reed, and it would not rust. It look many times better than cheap looking thin metal wire weaving around the reed fence.We use only Polished Reed to weave our reed fences, they are far more superior to the lower quality unpolished reed fences in the market. We offer two different types of reed fence woven with either natural brown twine wire or the black nylon coated wire, both of them are rust proof and offer superior quality in term of durability and the look of the fence when compare to other reef fences offered in the market today. We encourage our customers to use cedar posts and stringers to install any rolled fences. Use the bamboo caps to compliment the finished look.
Features:
Reed fences have good color and ease of use, good opacity
Choose from natural brown twine or the black nylon coated wire as the bonding material for your reed fence. Twine are thicker in diameter and the nylon wire is quiet smaller in size. Both of them are rust proof and will last a lot longer compare to other reed fences in the market.
Easy installation, go to our fence installation for more information
Natural material, rapidly renewable resources.
Rustic look, and less expansive.
Wide range of sizes to suite your needs
Use as fences or wall covering indoor and outdoor.
Size as below:
120cm*180cm
150cm*180cm
180cm*180cm
210cm*180cm
240cm*180cm
270cm*180cm
300cm*180cm
330cm*180cm
360cm*180cm
270cm*270cm
Woven with Hemp Rope ,Purple bamboo
---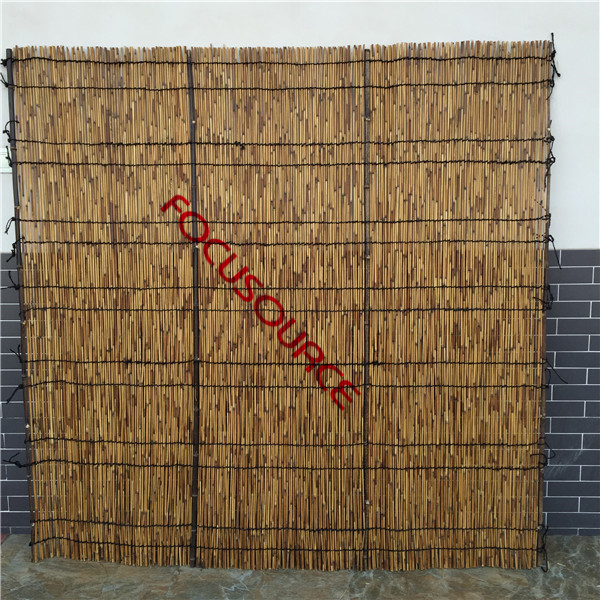 ---
Previous:
Reed Fence
Next:
Top Quality Reed Fence
---